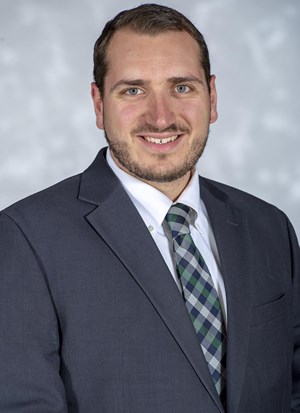 Welcome to the official website of broadcaster and media relations specialist Joseph (Joe) Mixie. Joe is currently a member of the athletics communications staff at Siena College in Loudonville, NY, and serves as the play-by-play voice for Siena Saints Women's Basketball. Joe also served as the play-by-play voice of the Tri-City ValleyCats for the 2019 & 2021 seasons.

Joe Mixie joined Siena Athletics as an athletic communications assistant in September 2018.
Mixie serves as the primary contact for the Saints' men's soccer, softball, men's & women's golf, swimming & diving, water polo and running teams and is the radio play-by-play voice and coaches show host for the women's basketball team on 88.3 WVCR. Mixie also broadcasts and produces Siena broadcasts on the ESPN Family of Networks, and served as the play-by-play voice for the Tri-City ValleyCats Professional Baseball Club of the Frontier League in nearby Troy, NY for the 2019 & 2021 seasons.
During his time at Siena, Mixie has held a variety of roles throughout the department, including serving on multiple working group to develop COVID-19 protocols & policies, and serving as the department's community service coordinator. Mixie's written feature on historical diversity within Siena Athletics was given a "Silver" EDMA Award in 2021. He also has served as a supervisor for the athletic department's student workers, and assisted Siena College's Offices of Enrollment & Admissions and Communications & Marketing during the Spring of 2020. Mixie aided Siena's efforts in serving as a host of the 2019 MAAC Men's & Women's Basketball Championships and the 2019 NCAA Women's Basketball Regional, both in Albany, New York.
Mixie came to the Capital Region following a stint at Jacksonville University in Jacksonville, Florida, where he served in a similar capacity from Aug. 2017 – Sept. 2018. During his time in the River City, he worked with the Dolphins' football, men's basketball, baseball, men's & women's soccer, softball and men's golf programs. Mixie also worked as a play-by-play announcer and color commentator for the school's ESPN3, ESPN+ and Mixlr.com broadcasts, covering football, men's & women's basketball, baseball, men's & women's soccer, women's lacrosse and softball.
Mixie served as the primary contact for the Dolphins' women's soccer and softball teams from Aug.-Dec. 2017, and saw his role expand to working as the primary contact for the football, men's & women's soccer and men's golf teams, as well as the secondary contact for men's basketball and baseball thereafter. He worked with the women's soccer and men's basketball programs as they made ASUN Conference postseason runs, and handled media operations for the men's golf and baseball teams as they advanced to NCAA postseason competition.
In addition to his work with JU, Mixie spent the entire 2017 season and the beginning of the 2018 campaign as a game day public relations worker with the National Football League's Jacksonville Jaguars, assisting with press box statistic distribution and serving as a post-game interview transcriber. He also worked with the Jacksonville Jumbo Shrimp, the Double-A affiliate of the Miami Marlins, as a radio producer.
While attending Liberty University in Lynchburg, Virginia, he served as the sports director and show host at 90.9 WQLU, and was a broadcaster for the Liberty Flames Sports Network, calling 10 different sports. He was a member of the Lambda Pi Eta National Communications Honors Society, upon which eligibility is given to students who hold a 3.5 GPA or higher in a communications major. Mixie was also one of the public address announcers for Liberty Athletics, and broadcasted a variety of high school and college athletic events. He is a winner of five Associated Press of Virginia awards for his work in sports talk radio at WQLU.
In addition to his work at Liberty, Mixie served as an intern with Star 99.9 WEZN and the Bridgeport Bluefish professional baseball club. He spent the summer of 2017 as the assistant director for the HAN Network in Shelton, Connecticut.
A native of Milford, Connecticut, Mixie is a 2017 graduate of Liberty, where he received bachelor's degrees in Broadcast Journalism and Digital Media-Performance.
He resides in Albany with his wife, Rachel, whom he married in December 2019.
---
Who Joe has Broadcast For